Generation of electricity from solar energy
Let Petrol take care of the planning, construction and management of your small solar power plants. For clean energy with a lower environmental impact.
CONTACT US
REFERENCES
View other business solutions
Solar energy is an inexhaustible source of energy with high long-term potential for electricity generation; clean and renewable, it has minimal adverse impact on the environment. Photovoltaics, the production of energy from sunlight, is thus one of the fastest growing renewable energy technologies today, with trends that indicate encouraging growth in future.
At Petrol, we help businesess, industry and cities plan, build and manage small solar power plants, helping them keep up with the times and establish self-sufficiency in electricity from renewable sources.
---
Solar power at Petrol
In accordance with our vision of a low-carbon company, Petrol is building solar power plants in the region, providing customers with clean energy, decreasing the regional import dependence and reducing greenhouse effects.
In accordance with the Decree on Amendments and Supplements to the Regulation on Self-supply of Electricity From Renewable Energy Sources (Official Gazette of the Republic of Slovenia, No. 32/2018 of 11 May 2018), small self-supply solar power plants ("net-metering") are also made available to business users, with interest in the service rapidly increasing.
Petrol also manages solar powerplants at its sales points and at industrial and other facilities with a total power of 2,700 MW. In Croatia, we are developing solar power plants with a total power of 11 MW.
---
Use of solar power
Solar energy is obtained from the radiation of sun's rays onto Earth, which consists of direct radiation, radiation directly from the sun, and diffuse radiation, radiation that is indirectly "bounced" off various particles. The energy conversion occurs when solar radiation falls on the receiver.
The actual utilization of solar energy can be calculated according to the position of the point on the ground, the season and the weather conditions.
| PASSIVE | ACTIVE |
| --- | --- |
| Lighting of spaces | Heating of sanitary water or spaces (via solar collectors) |
| Heating with solar collectors | Electricity production (photovoltaic systems) |
---
Production of solar energy
Photovoltaics
For larger industrial, urban and regional facilities and for business users.
Solar cells connected into solar modules or panels convert sunlight directly into electricity. The process is clean, reliable, environmentally friendly and needs only light as the source of energy. The price of solar panels is very affordable and is among the cheapest forms of renewable energy sources today. The expected operational life of the panels is about 30 years.
In individual spaces or areas that do not have good electric line infrastructure coverage, solar panels can also be installed in the form of mini-grids, which enable local energy self-sufficiency. This solution is especially interesting for developing countries that have a lot of solar energy available.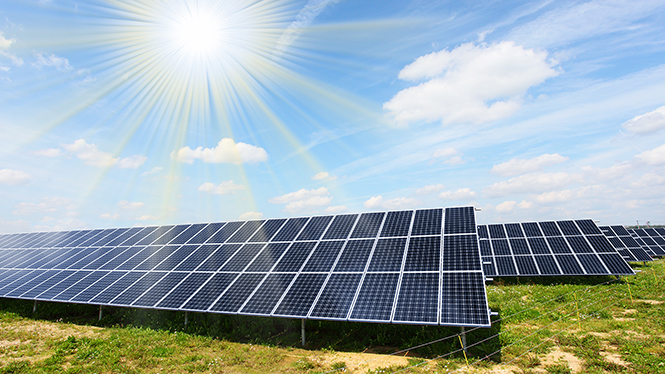 Concentrated solar power
For large power plants.
Electricity production is carried out using an array of mirrors that collect sun rays. Concentrated rays heat liquid to high temperatures, and the steam produced is used to generate electricity in the steam turbine. One of the main advantages of this method is the possibility of using energy storage ("molten salts"), which enables the storage of energy for when the sun goes down.