Petrol is preparing for the future of e-mobility with an electricity storage solution
Readers have chosen to award Petrol with the title of Most Energy Efficient Transport and Logistics Project 2022 at the 24th Energy Days conference. The title was for the project involving the installation of the electricity storage solution at the Kozina point of sale, which took place last autumn. By installing this type of electricity storage, Petrol is already preparing for the future of e-mobility.
Petrol has long been aware that the future lies in electricity and that we need to act now in order to make tomorrow better. The company embarked on the journey of electric road transport back in 2012 with the first charging stations for electric vehicles and is now, in line with its commitment to sustainable development, playing a key role in the breakthrough of mass electric mobility in Slovenia, including when it comes to the availability of electric charging infrastructure. As such, a pilot electricity storage solution was installed last autumn at the Kozina point of sale, which will make travelling with an electric car even easier in the future.
"Everyone would like to charge their electric car as quickly as possible, wherever they are – and that requires convenient access to an ultra-fast charging station. This is often a problem. The locations where it makes sense to install ultra-fast charging stations of up to 350 kW usually cannot deliver sufficient power from the grid, especially if there are several charging stations. In such cases, additional on-site power can be provided by an electricity storage facility, which allows for seamless storage and flexible power supply. One such solution is the new electricity storage at Petrol's point of sale in Kozina, which was installed together with the charging stations as part of a pilot project to reduce peak loads at charging stations," said Matjaž Šiftar, Head of Mobility at Petrol, explaining the reason for the installation.
The electricity storage facility at the Kozina point of sale has a capacity of 210 kWh and its power is 300 kW. There is also one fast and two ultra-fast electric charging stations. With an ultra-fast charging station, the driver of an electric car can recharge their battery by 35 kWh in just a few minutes, or for a further 200 kilometres, provided the battery of their electric car supports such fast charging. The electricity storage solution therefore contributes to faster charging and allows for hassle-free energy storage and flexible power supply. The storage is also connected to the electricity grid in such a way as to ensure the provision of the mFRR (Manual Frequency Restoration Reserve) system service. The investment was carried out under the NEXT-E project, which is partially co-financed by the Connecting Europe Facility of the European Union.
The project involving the installation of the electricity storage facility and ultra-fast charging stations was recognised by readers as the Most Energy Efficient Transport and Logistics Project 2022 at the 24th Energy Days conference (organised by the Finance magazine on 11–12 April). Petrol has already been awarded in this type of selection in previous years, for the Energy Retrofit Programme of Public Buildings in Ljubljana and the Luče Self-Sufficient Energy Community projects.
Petrol is actively developing charging infrastructure and mobility services
The development of new solutions in the field of electromobility and mobility services represents an important pillar of Petrol's sustainable and innovative business. When it comes to mobility, the Petrol Group focuses on charging infrastructure and mobility services.
The Petrol Group is present with charging infrastructure in Slovenia, Croatia, Serbia and Montenegro. It owns and operates over 300 charging stations in the region, ranging from ultra-fast and fast to those with conventional charging power. Regardless of the location and the type of charging station, customers can choose and charge their electric vehicles using the OneCharge app at all charging points in Slovenia and the region. The Group enables its customers easy access to a wide network of charging stations in the region and Europe, where it currently offers 2,500 charging points through partnerships in Croatia, Poland, Slovakia and the Czech Republic, as well as in Austria, Germany and Romania. The Group connects with providers via the European Hubject platform. Petrol will continue to expand its charging station network, both on its own and with partners in Slovenia, the region and abroad, in line with its 2025 strategy to have 1,575 charging stations for electric vehicles in its network.
"By expanding Petrol's network of charging stations, we follow the vision of becoming an integrated partner in energy transition, with an excellent user experience. By setting up ultra-fast charging stations, we enable our users to charge their electric vehicles in the least amount of time. This significantly improves user experience and strengthens our position as the most comprehensive provider of sustainable mobility in the region. Already today, Petrol can take pride in the fact that its electric vehicle charging stations provide energy exclusively from renewable sources. This is the only way mobility will achieve its sustainable purpose," said mag. Jože Bajuk, Member of the Management Board of Petrol.
Petrol already has the most comprehensive range of charging stations in Slovenia, offering the user a complete charging experience (from ultra-fast and fast-charging stations to conventional AC charging stations). Their locations are also quite varied: fast and ultra-fast on the motorway, fast-charging stations on arterial roads (e.g. Tržaška Lj), conventional AC charging stations in tourist locations (e.g. Piran, Bohinj), in smaller municipalities, all the way to the largest municipalities and shopping centres (e.g. BTC and Supernova QLandia Novo mesto).
Petrol's sustainable mobility development strategy also includes mobility services such as long-term vehicle rental, fleet management and maintenance, and short-term vehicle rental, which is closely linked to fleet optimisation. As part of the fleet management service, companies, municipalities and other organisations are provided with uninterrupted mobility through services such as long- and short-term rentals and door-to-door services. In light of the mobility trends where, in addition to fleet electrification, various types of electric vehicle rental rather than purchase are involved, Petrol is also developing a service called Vehicle as a Service. This is an upgrade of the typical operating lease of electric vehicles for up to 5 years. At the end of 2021, 74 electric vehicles were on long-term operating leases. This is just one of the products that complement the company's comprehensive mobility solutions. Petrol also offers municipalities and companies the optimisation and management of their existing fleets.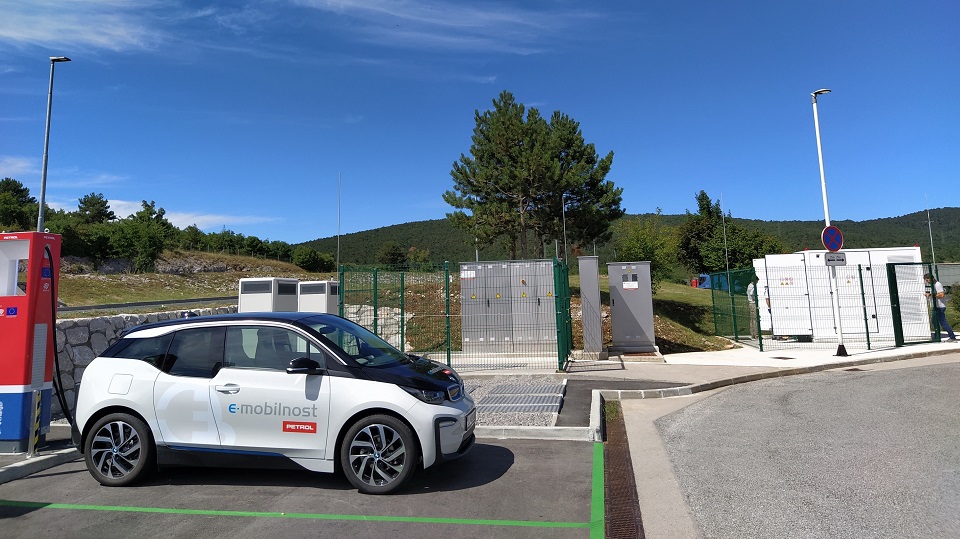 * * *