Petrol received the Responsible Care certificate for the 10th year
By operating in line with the principles of sustainable development, and on the basis of the fulfilled conditions, on Wednesday, 27 January 2021, Petrol was awarded a new Responsible Care (POR®) certificate. The company received this certificate for the 10th consecutive year, as it joined the chemical industry's global initiative in 2011. By receiving the certificate, the company recommits to improving its operation in the field of health, safety, and the environment, as well as to report transparently on its activities.
The Responsible Care programme is a global initiative of the chemical industry, formed in Canada in 1985, and Slovenia joined it in 1998. The chemical industry, within the framework of the Responsible Care programme, encourages branch companies to act responsibly towards health and the environment in the widest possible sense, and to openly communicate with stakeholders and the general public. Today, the programme includes companies from almost 70 countries.
Petrol became a part of the Responsible Care Group in 2011, and on the basis of the fulfilled conditions, on Wednesday, 27 January, it yet again, for the 10th year in a row, became the recipient of the Responsible Care certificate. "Participation in the Responsible Care programme means that we are aware that we are on the right path to sustainable development and social responsibility. Petrol is one of the 16 companies in Slovenia that hold the Responsible Care® certificate for 2020. These are companies that show concern for balanced development, with a special emphasis on ensuring continuous improvements in the field of environmental protection and the protection of health and safety at work," said Samo Gerdin from the Sustainable Development, Quality and Safety department, and Petrol's representative in the Responsible Care Group, which operates under the auspices of the Chamber of Commerce of Slovenia, upon receiving the certificate.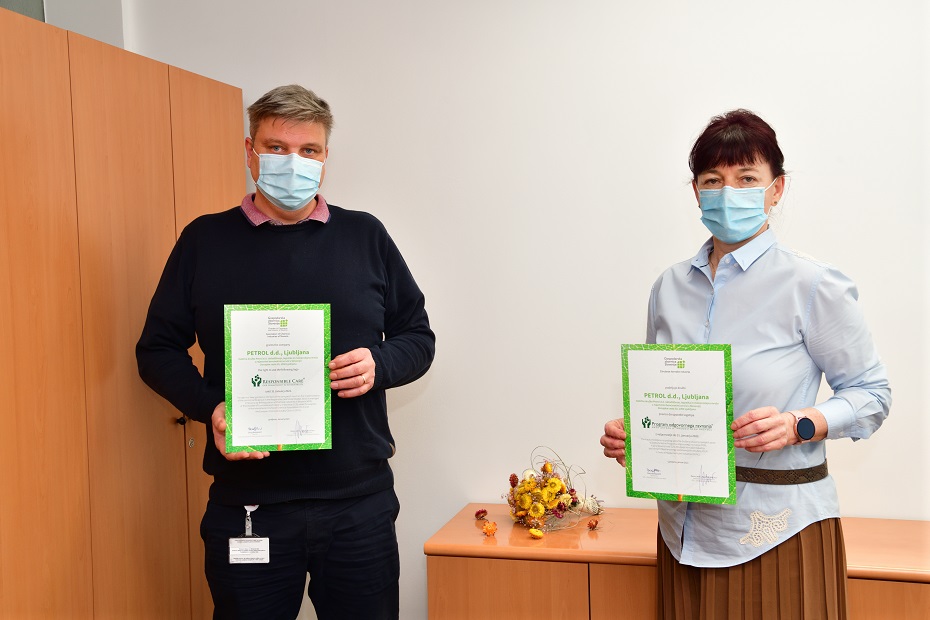 * * *