Petrol supporting scholarships for young athletes with Foksi glasses
This year's Coca-Cola charity campaign #AlwaysSupport a Good Cause was joined by Petrol, an important sponsor of the Slovenian Olympic Committee and many top Slovenian athletes. Petrol joined this project with a campaign of selling Foksi glasses, in which EUR 0.50 of every glass sold will be donated to the Slovenian Olympic Committee's Sports Scholarship project. Petrol took part in the campaign as a member of the Olympic family, selecting glasses produced in Slovenia on which they printed the Slovenian Olympic Committee's mascot, Foksi the Fox, in six different sports disciplines.
Who wouldn't want their own Foksi glass, which is easy to wash, durable and recyclable – and helps reduce environmental pollution and CO₂ emissions? Foksi the kayaker, sport climber, karateka, tennis player, handball player and road cyclist are waiting for you to take them home. Anyone that buys the entire collection of six will also receive a copy of Foksi Magazine, which will make the experience of learning about sports, the Olympics and sports values and disciplines even more fun.
Kaja Juvan and Jan Škrjanc young ambassadors of Petrol campaign
Glasses featuring Foksi, the Slovenian Olympic Committee mascot, can be purchased from 1 April onward at Petrol stations across Slovenia, with athletes Kaja Juvan and Jan Škrjanc serving as the young ambassadors of Petrol's #AlwaysSupport a Good Cause campaign. Kaja Juvan is a promising young tennis player and the current Youth Olympic Games champion, and Jan Škrjanc is a young triathlete slowly but persistently building his career as a top athlete. Kaja, Jan and Foksi are the winning trio that will help Slovenian athletes fulfil their Olympic dreams with your help.
Slovenian Olympic Committee's Sports Scholarships project
Through scholarships, the Slovenian Olympic Committee helps student athletes in their development on their way to becoming the best in the world. It promotes their education while they are building their sports careers and supports their development after they retire as professional athletes. In cooperation with the Slovenian Ministry of Education, Science and Sport, and the Slovenian Sports Foundation, it has been supporting Slovenian athletes since 1999, when it awarded its first seventy-one scholarships. Today 231 athletes from forty-three sports disciplines are receiving scholarships.
Young athletes can only fulfil their dreams if we all believe in them. Therefore it is important that we also believe in their dreams and support their (and our) sports future today. Visit a Petrol station and buy one, three or the whole set of Foksi glasses and donate EUR 0.50 per glass to the Slovenian Olympic Committee sports scholarships. #AlwaysSupport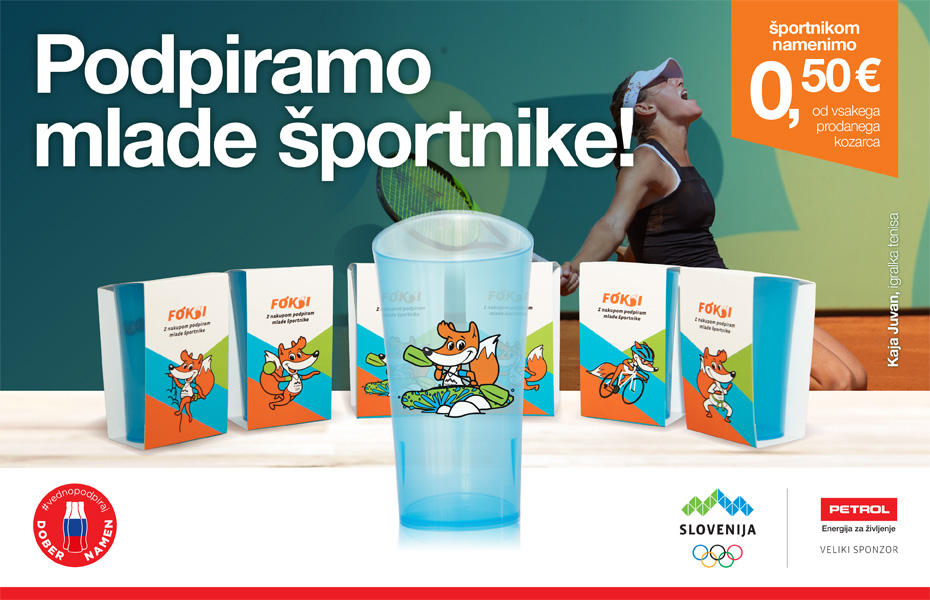 * * *