Tomaž Berločnik is Manager of the Year 2019
The editorial board of the Manager Association has named Petrol CEO Tomaž Berločnik Manager of the Year 2019. The award was conferred in the evening of Thursday, 26 September 2019, at the Manager conference in Portorož. Upon accepting the award, he said: "I would like to express my sincere thanks for this honour and the endorsement that I hold in my hands. But the truth is, I won the award, but it belongs to my colleagues." He then invited his team of co-workers to join him on stage, so that they could all accept the award on behalf of all Petrol employees.
Tomaž Berločnik has led Petrol successfully since 2011, and it is now the largest company in Slovenia. Petrol is therefore no longer just Slovenia's largest oil company, but a company of the future, which is establishing new trends and business models in energy and trade and developing smart solutions in energy and mobility. Berločnik oversaw a thorough transformation of the company through empowerment of his employees, who consider his visionary thinking, progress orientation, courage, openness, dedication and perseverance to be among his best traits. At the forefront of his management style he puts an excellent team, with whom he forms plans aimed at results and consequently at excellent returns.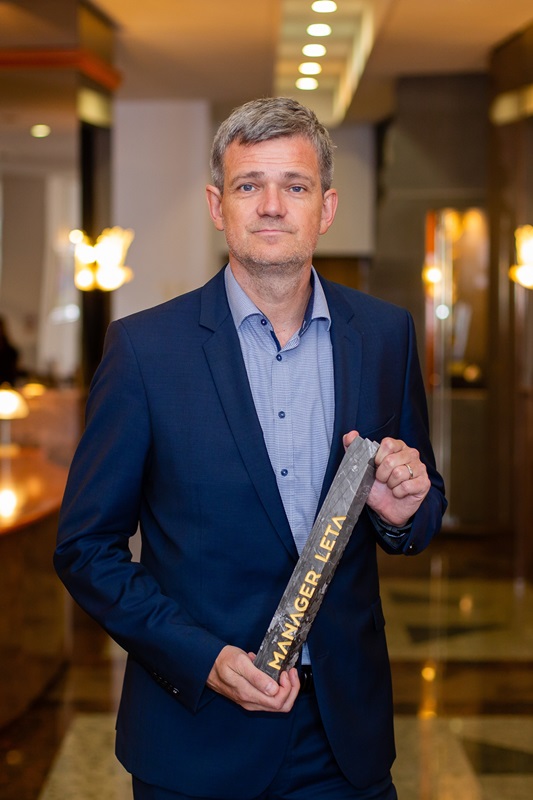 Net sales revenue up 92 percent in eight years
Berločnik began his career in business while he was still a student at the Faculty of Mechanical Engineering, when he and his friends established the RVS company (the name is a Slovene acronym for Computer Science in Mechanical Engineering). He has served as CEO of the Donit Tesnit and Tesnila TIT seal manufacturing firms and was CEO of the Istrabenz company during its rehabilitation. When he came to Petrol in 2011, he wanted to build on the existing good operations. He knew that the conditions on the market would change and that the company would have to be restructured in order to remain competitive, and he made his team enthusiastic about the project. In his second term of office he began implementing his new strategy, which is already yielding record financial results.
The year 2018 was the best year in the history of Petrol. The Group posted net sales revenue of EUR 5.4 billion, which is 20 percent higher than the previous year and up a full 92 percent on 2010. Last year, 50 percent of oil product sales were generated in Slovenia, 28 percent on the markets of the European Union and 22 percent on the SE Europe market. A new record was set in the first quarter of 2019, as they posted EUR 1.4 billion in net revenues, which is 19 percent higher relative to the same period last year.
In 2018 they also posted 13 percent higher net profit amounting to EUR 91.8 million, EBITDA was EUR 171.5 million, and value-added per employee was EUR 63,800, which is 43 percent higher than the average for the Slovenian economy.
Gross wages nearly a third higher than the Slovenian average
At the end of last year, the Petrol Group had 4,857 employees, of whom 33 percent are employed abroad. On average, Petrol employees have 26 percent higher gross wages than the Slovenian average gross wage. During Berločnik's tenure at Petrol they have also established a human resources development system and a business academy for training young prospective talents, they carry out coaching and mentoring programmes and have established a network of internal ambassadors. Last year, each employee attended an average of 26 teaching hours, there is an employee health promotion programme in place, and Petrol is a family and elderly-friendly company.
His colleagues describe him as visionary, charismatic and open
The organisational culture that Berločnik introduced at Petrol is based on trust, assuming responsibility and cooperation, and is stable and flat. Under his leadership, employee satisfaction has increased and the percentage of actively uncommitted employees has fallen. The importance of the organisational climate is also borne witness to by the fact that one of Petrol's directors' and managers' business objectives is an assessment tied to the organisational climate in their unit.
The employees also gained increased authorisations upon Berločnik's arrival. The company with its more than 5,000 employees is therefore more agile, and decision making is significantly faster. Berločnik also changed the attitude towards mistakes within the company, since, as he says, "without mistakes there are no new ideas and innovation, and consequently no company development and growth."
His colleagues describe him as visionary, charismatic and open, and particularly value his trust and his ability to relinquish authority and delegate it to others. They also mention his commitment level, his competence – reflected in his efficient setting of priorities – and his progress orientation. These management skills are reflected in his dedication, perseverance and maintaining a positive attitude, and he is also inclined towards learning and listening to constructive criticism. He is also more charismatic than the majority of managers, as measured against 40,000 other managers in a 360°analysis.
Petrol among the best in the region with investments over 500 million
Berločnik is ambitious, and he wants Petrol to become an important regional player by 2022 in three key areas: energy, mobility and trade. They will achieve this through innovations and digital solutions, and partnerships and acquisitions. Last year they purchased majority or 100-percent interests in mBills, Megaenergija, Ekoen, Ekoen S. and Zagorski Metalac.
In order to achieve these targets they will be investing more than EUR 500 million, half of which in energy and sustainable mobility, as they are aware of the importance of sustainable development and the responsibility that they have to the planet and its people. They allocated EUR 86.5 million for investment projects last year, including new service stations. These now number 505, of which 319 in Slovenia, through which they achieve a 57-percent market share. EUR 6.6 million were allocated for research and development last year. The importance of new product development is demonstrated by the fact that 22 percent of all revenues last year were generated through products that were developed within the last three years.
Increasing social responsibility and giving back to society
Petrol are also aware of their social responsibility. They support charitable campaigns and volunteering. In the campaign Become Petrol's Santa Claus they provided presents to 300 children from socially marginalised families.
The Petrol Group contributed EUR 2.5 million for donations, sponsorship and assistance to others last year. Petrol is a sponsor of the Slovenian Olympic Team and youth sports, a sponsor of the Slovenian national ski, football, basketball, gymnastics and tennis teams, and also supports various clubs and is the personal sponsor of the most visible and promising athletes. It also sponsors sports, professional and cultural events and works together with the Ljubljana Festival, the Lent Festival in Maribor and the Cankarjev dom cultural and congress centre.
Berločnik is also an active member of his social environment. He is the president of the Cedevita Olimpija Ljubljana basketball club, a member of the Council of the Faculty of Economics in Ljubljana, a member of the Slovenian Directors' Association and an advisor to the CEED programme, which provides young entrepreneurs with a smoother pathway into the business world. He also works as a strategic partner with the Faculty of Economics and shares his knowledge and experience with students. He is the recipient of numerous awards for his achievements. In 2007 he was named young manager of the year, in 2013 he received a Primus award for outstanding excellence in communication and for his contribution to the development of the communication profession, and in 2017 he received an award from the Academy of Mechanical Engineering for the global penetration of Slovenian engineering.
About the Manager of the Year award
The Manager of the Year award is one of the most prestigious awards in the field of management in Slovenia. It is awarded to leading Slovenian managers for their exceptional accomplishments in business at the companies they lead. Their stories are the foundation on which the management's reputation is built. Their rises and falls serve as inspiration and encouragement to other managers on their pursuit to be among the best. The members of the selection committee for the Manager of the Year award for 2019 were: Andrej Božič (committee chairman), Tjaša Kolenc Filipčič, Aleša Mižigoj, Sebastijan Piskar, Melanie Seier Larsen, Saša Mrak and Aleksander Zalaznik.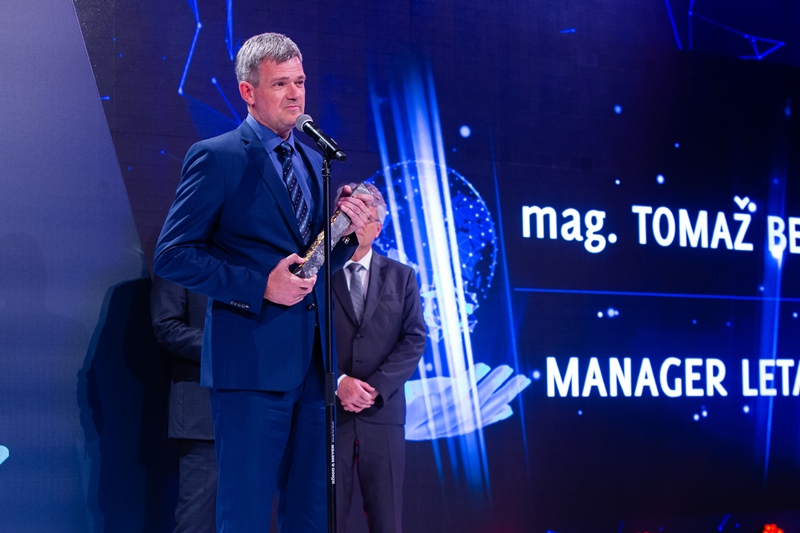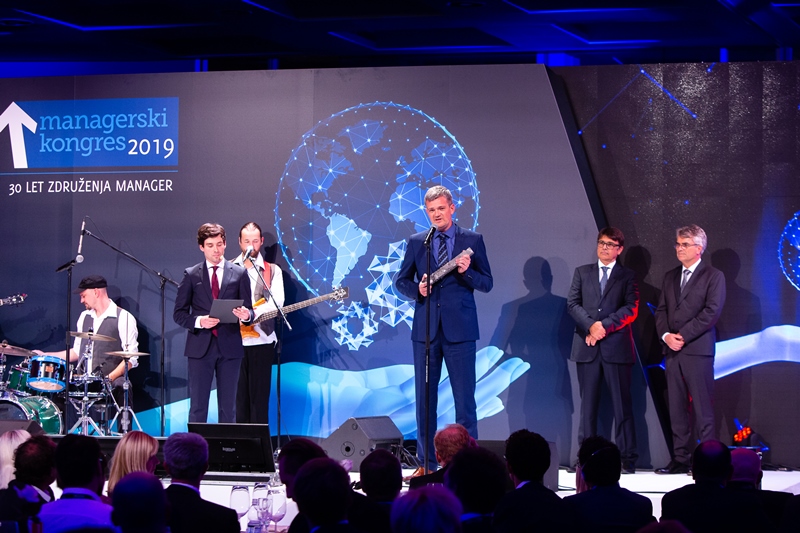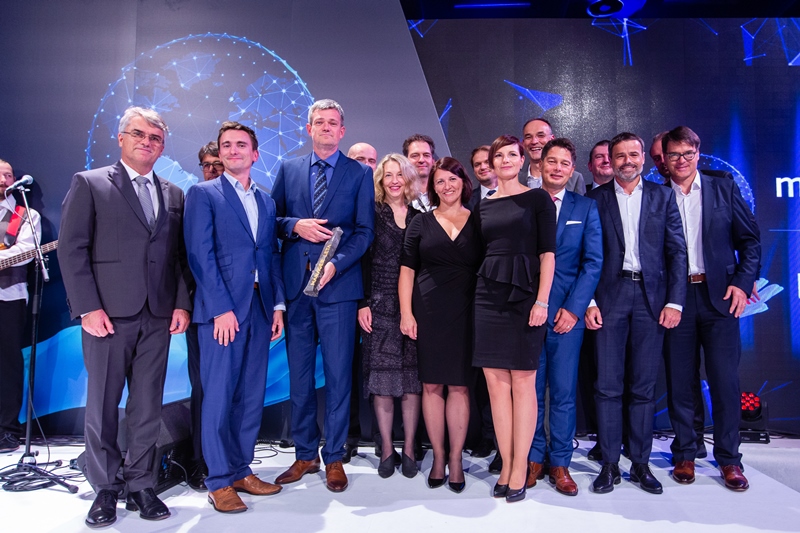 * * *