Celebrating World Bee Day
Today, 20 May 2020, we are already celebrating the third World Bee Day, declared by the United Nations at the proposal of Slovenia. In a time when a responsible attitude towards nature and maximum self-sufficiency in food are particularly relevant, it is appropriate to be aware of the importance of these little creatures for our existence.

This year's celebration of World Bee Day is titled "Bee Engaged", since it gives a warning of how important the engagement of countries, civil society organisations and the private sector, farmers and bee-keepers, as well as of every individual, is for preserving bees and other pollinators.

So we are particularly proud in Petrol to be a part of this bee story. Caring for a broader social environment is the common thread in all areas of the Petrol Group's operations, hence the responsibility to the social environment where we operate is incorporated into the very essence of our operations.

Petrol also cares about biodiversity with bees
Two years ago, we welcomed five bee families, who got their new home on Petrol's terrace on the 14th floor of our business building in Ljubljana.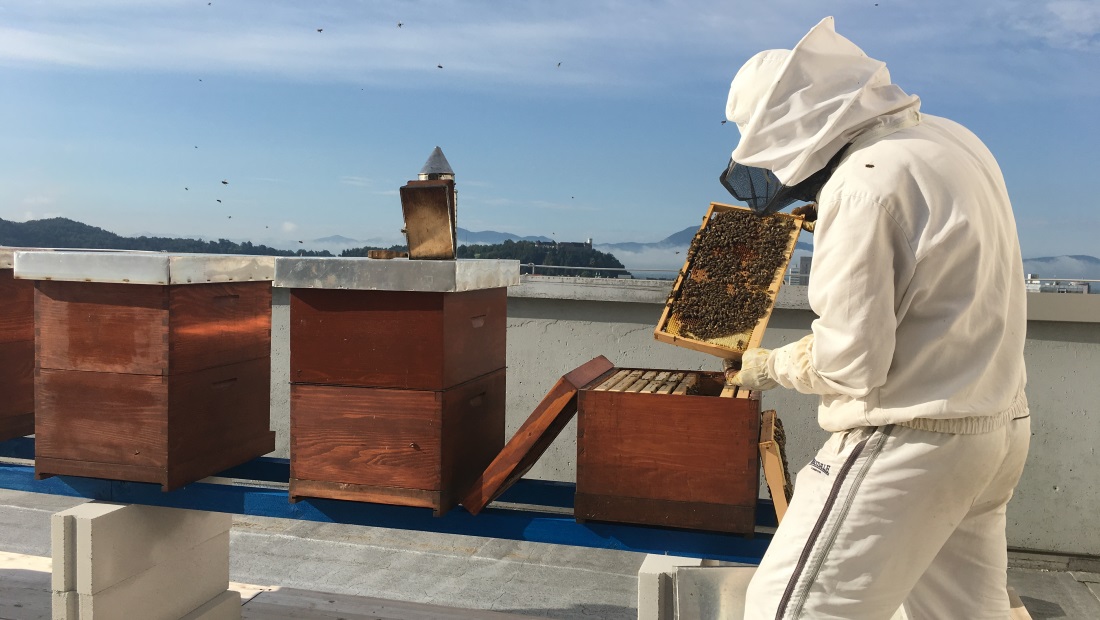 The Petrol business premise bee house
The individual Petrol bee houses offer a home to 30,000 or 40,000 bees, even up to 50,000 in the harvest season. Considering the location of our business premises, the bees are harvesting forest honey. On their way to the nearby parks and forests, they take care of pollination and healthy fertility of the green ecosystem.

So, how were the bees during the epidemics?
"Bee-keeping is a solitude activity, so the quarantine did not have a particular impact on our or the bees' everyday life," explains Gorazd Trušnovec who takes care of the Petrol urban bee workers. "In this period, we mostly provided the bees with enough room in their hives for their vigorous springtime development. One of the five bee families, who were all nicely developing in the warm April days, got ahead of us anyway and decided to swarm. This means that it has split in half and half have left the bee house. But after we received a notice from the security service, we even took care of this otherwise completely natural situation."

Providing sustainable development
Since we have given the bees home on the Petrol terrace, we have become a part of the Bee Path in Ljubljana City project, taking care of bee well-being through diverse activities.
"We realise that bees and other pollinators are very important for the sustainable development of farming and for food security," adds Marta Svoljšak Jerman, the Sustainable development, quality and safety manager in Petrol.
* * *