Golden Points raise more than €20,000 for young athletes from the Botrstvo v športu programme
In the spirit of the 32nd Olympic Games of the modern era, which took place in Tokyo, Japan, from 23 July to 8 August, Petrol – known as one of the biggest supporters of Slovenian sport – decided to further strengthen the sporting, charitable and environmental spirit by supporting the Botrstvo v športu programme with the help of Petrol Golden Points, thus helping young athletes from socially disadvantaged backgrounds and providing them with everything they need for quality training, which is a prerequisite for achieving top results.
The Every Point Counts charity campaign, which also invited members of the Slovenian Olympic team as sponsors of the Slovenian Olympic Committee and which the club entered into together with the Slovenian Olympic Committee, the Foundation for Supporting Athletes from Socially Weak Backgrounds and the Ljubljana Moste-Polje Youth Friends Association, was based on the collection or donation of Petrol Golden Points by members of the Petrol Club. Each donated point was eventually converted into euros, which will be used to purchase sports equipment, pay club membership fees, and travel to competitions and training for young promising athletes.
In addition to donating Golden Points, which could be donated at all Petrol outlets in Slovenia and via the website www.petrol.si/vsaka-tocka-steje and the On the Go app, a quiz on environmental care and the Tokyo 2020 Olympic Games was also held with their Olympic ambassadors – golden canoeist Benjamin Savšek, discus thrower Kristjan Čech, sailors Veronika Macarol and Tina Mrak, and basketball players Zoran Dragić, Jako Blažič and Vladek Čančar. The quiz was a fun way to provide interesting educational content on environmental management and the Tokyo 2020 Olympic Games.
It is worth noting that all point donors and quiz participants were also entered into a prize draw to win practical prizes, including various items from the official Olympic collection (more than 100 prizes), and some lucky winners will get to meet the Olympians who took part in the campaign in person.
The campaign was a great success, with 6,007 Petrol Club members donating their Golden Points at an average of 100 Golden Points. In total, they donated 2,000,000 Golden Points, which amounted to more than 20,000 euros, which were presented in the form of a cheque at the reception for the Olympic team at Congress Square. The handover to Miro Cerar was carried out on behalf of Petrol by Zoran Gračner, Labour Director and Member of the Management Board.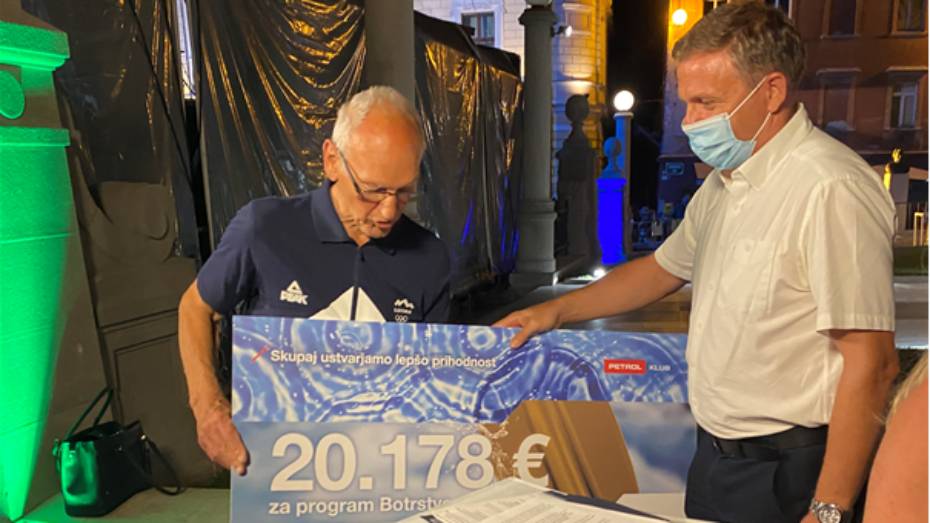 * * *