Petrol in new construction of PM AC Barje – South and North together with Marche, McDonald's and Dars
Yesterday, in the presence of Dars, Petrol and its business partners McDonald's and Marche signed a contract on business cooperation in the project for the new construction of AC Barje – South and North outlets. The southern Ljubljana ring will thus be enriched by two new Petrol outlets, built to the latest and most modern standards, which will bring together three food service providers in their premises.
In line with the strategy of expanding the network of outlets in Slovenia, Petrol has decided to build new state-of-the-art AC Barje – South and North outlets, which are already located on the southern Ljubljana bypass. Petrol will be joined in the project by two food service providers, Marche and McDonald's, with whom Petrol signed a business cooperation agreement yesterday in the presence of Dars. Petrol's CEO Nada Drobne Popović presented the strategic role of the points of sale for Petrol's business: "Petrol's vision is linked to ambitious strategic goals, whereby we aim to become an integrated partner in the energy transition with an excellent customer experience. With new digital channels, an expanded range of energy products and a personalised offer, we will get even closer to our customers. As building and nurturing customer relationships is our priority, we will also continue to strengthen our sales network in the region. We aim to become the first choice for on-the-go shopping, which will also be supported by new sales outlets, both in Slovenia and in the south-eastern markets where we are present. According to the strategy, the total number of outlets in all markets will grow to 627 by the end of 2025 from the current 500, including the new AC Barje – South and North points of sale, which will bring together three food service providers in one place."
Jože Smolič, Member of the Management Board for Sales at Petrol, added: "As part of its strategic orientations for the development of a modern POS 2.0, Petrol is focusing on the gastronomy sector, in addition to the digitisation of points of sale, where we are already enabling customers to make a convenient, easy and quick purchase from their car using the On the Go app. This type of concept – several food providers in one place – is already an established practice abroad, and the two outlets in Barje will be the first two examples in Slovenia. Given their locations, which are already considered to be extremely popular, we are confident that a varied gastronomic offer will attract and satisfy the wishes of different customers and offer them the ambience and convenience of a food court, as we know it from shopping centres. We are entering the project together with our business partners, McDonald's and Marche, with whom we have been working individually for many years. We already have established cooperation with partner caterers in Slovenia and Serbia. Here, we intend to expand our cooperation to new locations. At the same time, we plan to introduce this type of cooperation concept in the other markets where we are present. We are talking about Croatia, Bosnia and Herzegovina and Montenegro. In the future, we would like to work with different partners to develop and upgrade our points of sale and together create a 'wow' customer experience when they stop by."
The signatories of the contract on business cooperation in the new construction of the PM AC Barje – South and North were Srdjan Krumpak, Director of Alpe-Panon d.o.o., McDonald's DL Slovenia, and Branislav Knežević, Director of Alpe-Panon d.o.o., McDonald's DL, on the McDonald's side. At the signing ceremony, the latter said, "We are delighted to continue our cooperation with Petrol with the new construction project in Barje. We are confident that we will be more than successful together again when we offer a new point of sale concept. Our guests will be particularly satisfied, as we will offer them a wide range of gastronomic options in one place."
On the side of Marche Gastronomy, the signing of the contract was attended by Hermann Ircher, Vice-Chairman of the Board of Marche International and Managing Director of Marche Gostinstvo, and Aleksander Sinkovič Jurca, Director of Marche Gostinstvo Slovenia. "We started working with Petrol in 2005 and to date we have been able to create a number of success stories. We are also enthusiastic about this project, in which, together with two strong and successful companies such as Petrol and McDonald's, we will create a new story that will upgrade the Slovenian motorway network", said the Managing Director of Marche Gostinstvo.
At the event, a consent for the provision of catering services at the PM AC Barje – South and North sites was also signed by Dars' member of the Management Board, Peter Gašperšič. "At Dars, we are aware that one of the measures to increase customer satisfaction is the design and offer of motorway rest areas. That is why we are pleased to grant our consent for the catering activity at the Barje rest area. This is one of the busiest rest areas on our motorway network. It is also, for the time being, the only rest area on the Ljubljana ring road, at least until the expansion of the western bypass. Our motorway network as a whole is very well covered with rest areas. There are 54 larger ones, including petrol stations. Their tenants, the largest of which is Petrol, make regular additions to their offer, which we at Dars strongly support. A nicer, more modern look and modern catering facilities also make users more likely to stop, refuel and rest."
More about the AC Barje – South point of sale
The AC Barje – South point of sale, which is already part of Ljubljana's southern ring road, will offer a wide range of different retail products, and will be unique in that visitors will be able to choose from three different food providers – Fresh, Marche and McDonald's – in the 900 m2 outlet. The latter will also offer visitors the possibility to conveniently purchase food via a drive-through.
The new state-of-the-art outlet will include 18 car filling points and 6 lorry filling points. The site will offer conventional fuels as well as LPG, CNG and LNG, with the possibility of installing a hydrogen filling station at a later stage. The AC Barje – South outlet will provide 30 parking spaces for truck drivers and 90 parking spaces will be managed by Dars for public passenger transport. More than 10 parking spaces will be equipped with charging stations for electric vehicles and the possibility of extending the charging stations to the rest area is foreseen.
In addition to a wide range of Petrol products and services, customers will be able to purchase freshly prepared Fresh products in the Petrol Shop. The sales area will also include four coffee corners, next to which will be display cabinets with bakery products.
The new construction of the newest outlet is scheduled to start in March 2022 and be completed in August of the same year. Immediately after the completion of the new AC Barje – South outlet, Petrol plans to carry out a similar new outlet construction at the AC Barje – North outlet.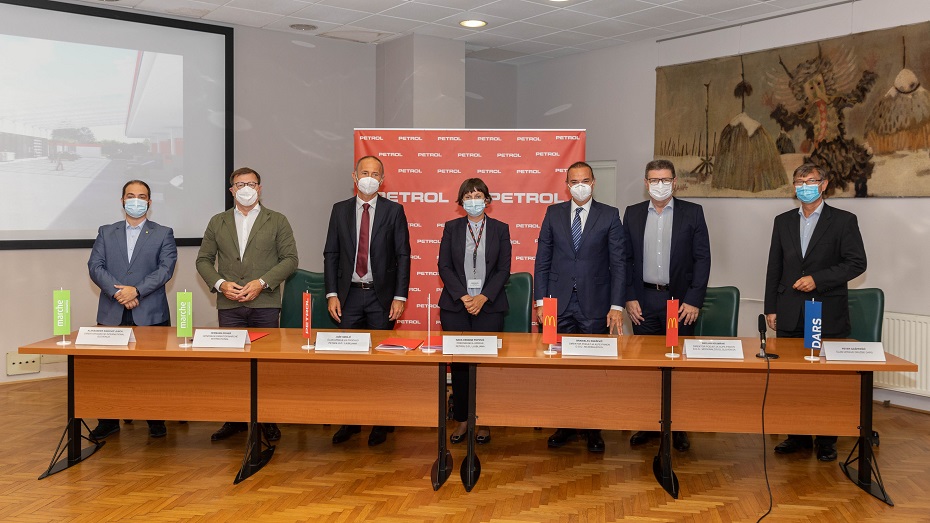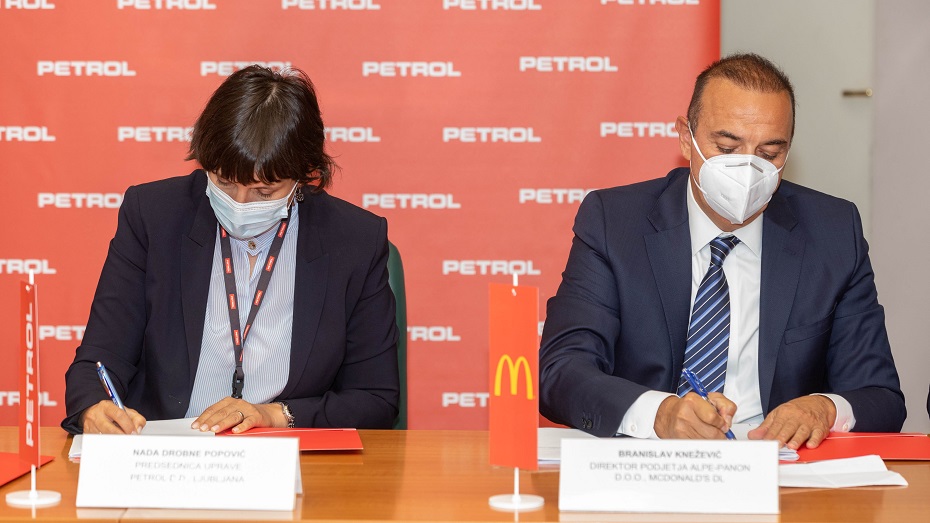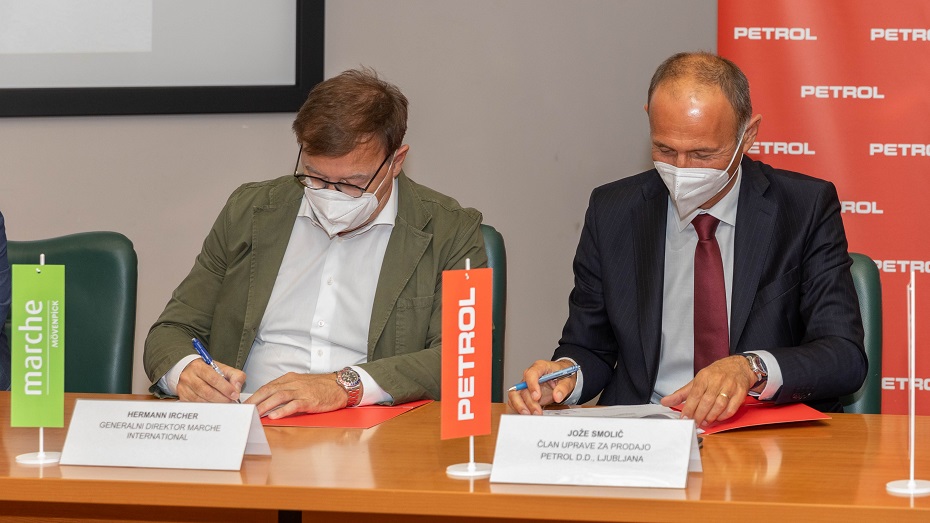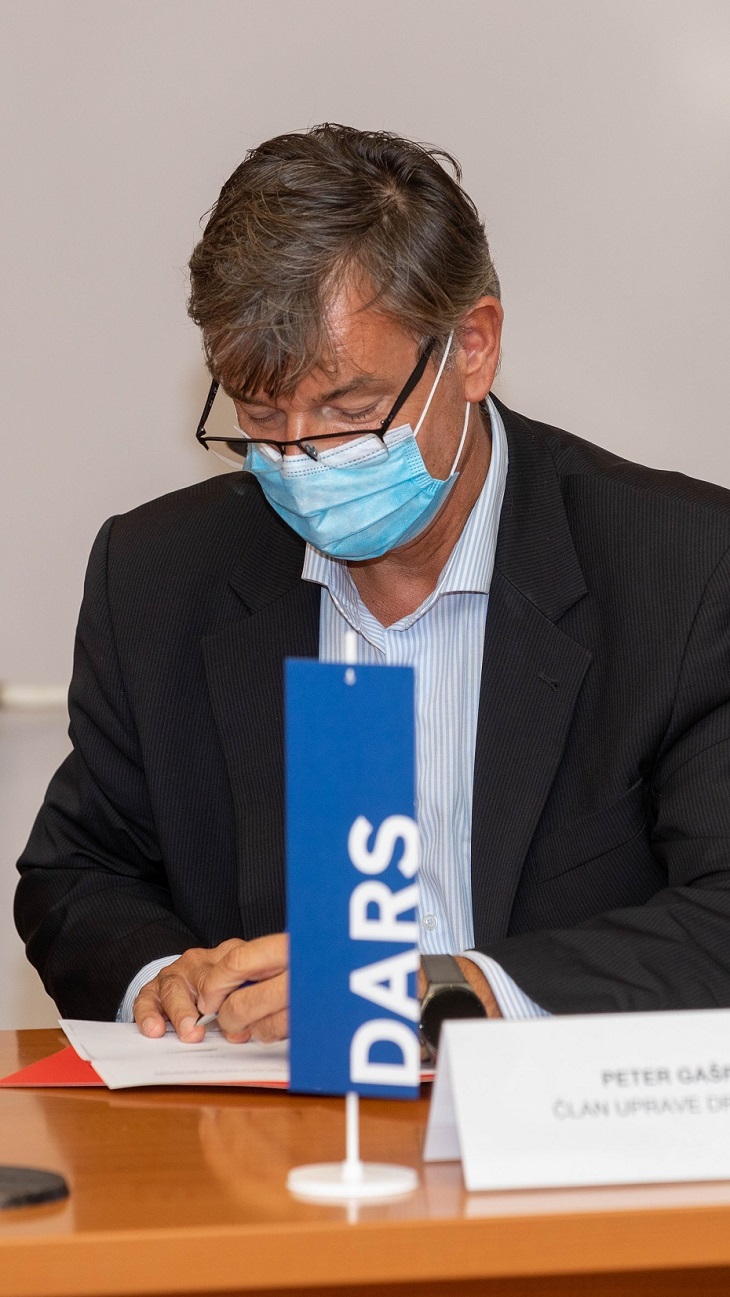 * * *