Petrol employee among best pizzaiolos in Slovenia
On Thursday, 31 January, the Ljubljana fairground turned into a true pizzeria as it held the seventh pizza-making competition as part of the GASTexpo 2019 fair. Twenty-five competitors entered the challenge, including Petrol employees Erika Mahnič, Alfonso Merdita and Darko Grabovac. To win the title of the best pizzaiolo in Slovenia, the competitors had to prepare two pizzas: a Margherita and one of their own choice. The toppings for the latter had to be chosen from among the items at their cooking station.
The resulting pizzas were judged by a panel of four judges, including top baking expert Federico Perrone and Miha Racman, sales point developer at Petrol. Petrol employee Erika Mahnič placed third in the competition, an excellent achievement ranking her among the best pizzaiolos. Erika is currently employed as the head of the Fresh Section at the Povir Sever sales point, where she started working while still a student.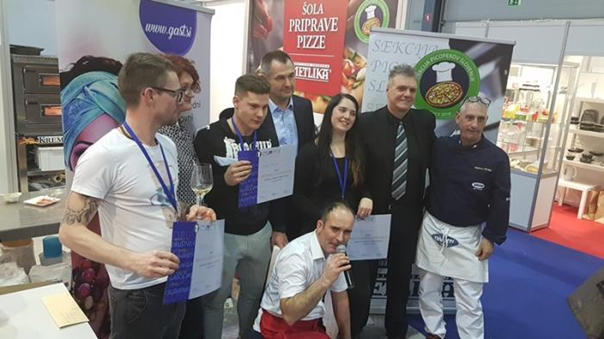 * * *