Petrol awards best master's theses in cooperation with Faculty of Electrical Engineering
We often say that young people are the future – that is, their potentials, knowledge and ideas. Petrol is also aware of the importance of forming connections with future intellectuals and potential employees while they are still students, and so it forged an alliance with the University of Ljubljana's Faculty of Electrical Engineering and offered its students assistance in producing their theses. The students also received awards for their energy and well-written master's theses. The award ceremony took place on Thursday, 7 March 2019.
In the company of representatives of Petrol and the faculty and its students, Thursday afternoon began with a welcome speech by Aleš Koželjnik, the director for energy products and energy management at Petrol. He presented Petrol's activities to the participants, explaining to young people which areas they can fulfil their potentials in. After that Andrej Gubina, head of the Energy Strategy Laboratory at the Ljubljana Faculty of Engineering, was invited to take the floor. Gubina presented the laboratory's mission, its expert team and the projects in which it cooperates with a number of organisations and companies.
Students got access to knowledge – and two of them even got jobs
The companies they work with also include Petrol, which they have been forming links with for several years. One of the forms of cooperation is also offering support by providing advisors for master's theses. This gives students access to data, student temp work and potential jobs later on. In 2018, five students were involved in cooperation between the faculty and the company. Four of them completed their master's theses, for which Gašper Artač, head of the energy management centre at Petrol, served as co-advisor, and two were offered jobs after graduating and presented with a cash prize, which they received on Thursday, 7 March 2019.
The prize was conferred on Gregor Gostinčar, who wrote the master's thesis "Market-based optimization model of combined heat and power operation", and Kujtim Dauti for his master's thesis "Model for estimation of the potential of flexibility of objects". Dauti said the following when accepting the prize: "Already during the presentation of topics for the master's theses and Petrol's area of work, I realised the company offers many challenges I'd be interested in myself. That's why I decided to take part in the project. I was welcomed by a great team on the very first day, and during the course of work I realised there were even more interesting challenges than I had expected and that I wanted to work with Petrol on a long-term basis. This has been made possible for me through this job offer."
Also take part in Compile project together
Providing advisors for master's theses is not the only form of cooperation between Petrol and the Faculty of Electrical Engineering. They have also joined forces in the Compile project, which is co-financed by the EU under the Horizon 2020 programme and whose main goal is to provide opportunities for decarbonisation of the energy supply, community building and creating environmental and socioeconomic benefits. The project aims to activate and use local energy systems to support the rapid growth of energy production from renewable energy sources in constrained networks, and foster the transition from a centralised system of passive users to a flexible network of active users forming energy communities. Launched in November 2018, it brings together twelve EU and two international partners, who together will create four technical tools and two energy community creation tools that will be tested at five pilot sites. These also include the Slovenian town of Luče, where Petrol plans to create the first energy community in Slovenia, which will be able to meet its electricity needs entirely on its own and exclusively from renewable energy production. The entire EU project will be completed in 2022.
Assisting in master's theses for another year
The event concluded with the presentation of new master's thesis topics. Their main points were presented by Gašper Artač, who will again serve as a co-advisor. He said the following: "Cooperation with faculties is vital in seeking new young talents. This makes it possible for young people to become more familiar with Petrol's activity and work on real-world challenges, and it allows us to more easily discover high-quality staff, which we may not otherwise. We've already employed two enthusiastic master's degree holders in this way and they fit in easily because they had already worked with our team on their master's theses. We're also cooperating with the Faculty of Engineering in applying for national and EU project funding, which allows us to finance and develop new areas that reflect the future orientation and development of the European Union. The development of energy communities is one such example, which we're dealing with in the Compile project."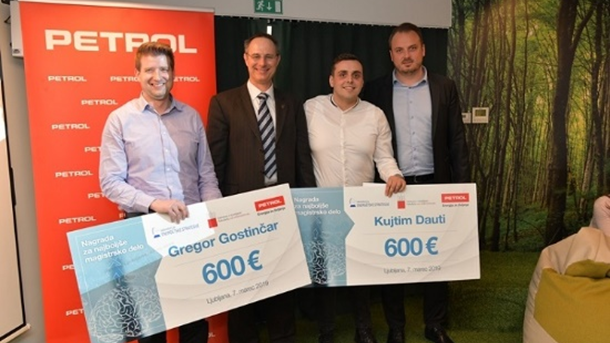 * * *